Replacement Deck Chair Slings-Dice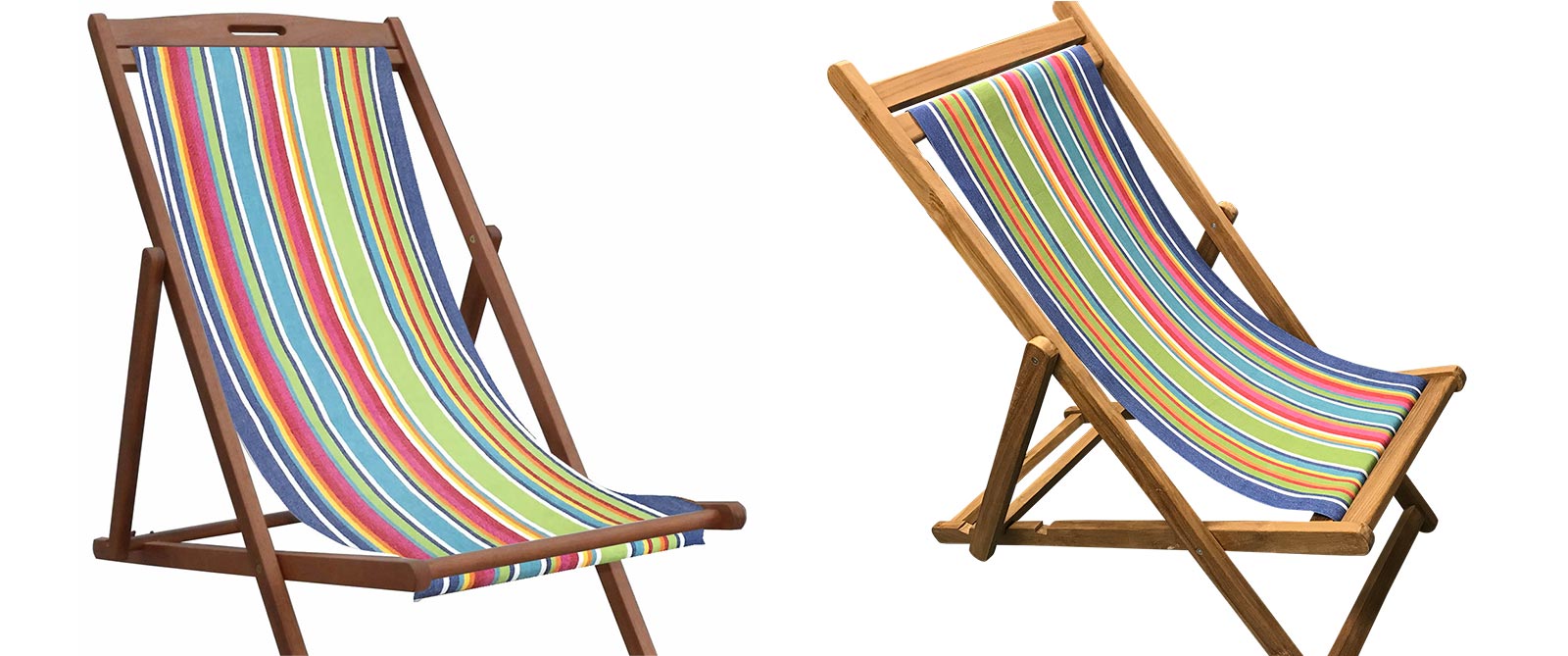 Made to Measure Deck Chair Covers
If your deckchair has a method of attaching the fabric which involves a stitched channel at the top and bottom of the canvas where a wooden dowelling rod is inserted to keep it in place, and also involves stitching up the sides of the canvas for the correct width then this made to measure service is for you.
It is easy to sew our stripe cotton canvas on a domestic sewing machine, but why bother to go to this trouble when we could make a replacement deckchair sling for you?
All you have to do is remove and send your old stitched deckchair sling to us and we make a replacement sling in your choice of deckchair fabric that will fit your deckchair exactly.
vintage look fawn, a buff, sandy colour with two bands of terracotta, turquoise, dark red and lemon yellow stripes
---
Fawn, terracotta, turquoise - dark red, lemon yellow stripes
Ordering instructions
MADE TO MEASURE SERVICE - Replacement Deck Chair Slings / Covers
These are the correct slings to choose if the fabric on your deckchair is attached by means of dowelling rods threaded into a stitched channel top and bottom to keep the sling in place.
TEMPLATES: Once you make your purchase You MUST SEND US your OLD DECK CHAIR SLINGS as templates
FOR TACKED ON SLINGS: You can just purchase the deckchair fabric loose by the metre (1.5 metre per chair) together with Studs and tack the canvas on to the chair instead.
See our video of How To Recover a Deck Chair
PURCHASING YOUR CUSTOM MADE SLING: Once you have purchased your sling from the website, please print a copy of your order confirmation email and include with your old slings and send to:

Deckchairstripes Ltd T/A The Stripes Company
Unit 1 Waverton Business Park
Saighton Lane
Waverton
Chester CH3 7PD
UK
ORDER CONFIRMATION: If you don't appear to have received your order confirmation email, please check your junk/spam email folder. If you still can't find it just put a note stating your name, address and date of order and include with your slings - we will acknowledge receipt once we receive your template.


POSTING TO US: We advise obtaining proof of posting from The Post Office and please ensure you have paid the correct postage - we will acknowledge receipt once we receive your template.


RETURNING OLD SLINGS: If your slings are precious and you need to retain them, please include a note with your templates if you would like us to return the originals, otherwise we will store for a short time and then dispose of them in an ecological manner. Occasionally customers wish to have more remade - we are mindful of keeping postage costs down and reducing our carbon footprint.


DIFFERENT SIZE TEMPLATES: If you have more than one chair and they are the same size - it is only necessary to send one sling to us. If they are different sizes please send one of each ONLY - but clearly mark the quantity required on your templates.


UNUSUAL SLINGS: If your deckchairs are dissimilar to those pictured then it would be helpful to email your images for a quotation.


LEAD TIME FOR STITCHING: Please allow 14 days from when we receive your deckchair sling templates.
Please note: We are unable to refund on made up slings once they have been stitched and sent


DAMAGED COVERS: Please do not send very split or broken slings as we are unable to measure accurately - always check when washing your old covers that they have not shrunk as this may impact the correct fit. We are unable to accept responsibility if the templates that are sent are incorrect in any way - we will always call you if there is a problem.


CANVAS WIDTHS: As our Deckchair Canvas is 45cm wide we are restricted to that width.
Always measure the top rail of your deckchair for the correct width - the top rail is always longer than the bottom rail to allow the deckchair to fold.
Disregard the existing canvas width if it is significantly narrower than your chair - remember that your new covers could be up to 45 cms which is the standard deckchair width.
If your chair is a lot wider ( please see Habitat Deckchair Covers below) then this means that there may be more of the top rail on display which is not really noticeable and will not impact comfort or strength of your seat.
If your sling is tapered please read our FAQs here: FAQs on tapered slings.


HABITAT DECKCHAIR SLINGS: For some Habitat Deckchairs, which are wider at 50 cms ( e.g. Maui ) our canvas is restricted to 45 cms wide, so they will be not as wide on your existing chair.


THE STRIPES COMPANY BRAND CHAIRS: If the slings are for a Premium Deckchair purchased from us in the past you may not need to send your old slings - please email once you have purchased to let us know.


EXPRESS DELIVERY IS NOT AVAILABLE FOR MADE TO MEASURE REPLACEMENT DECKCHAIR CHAIR SLINGS
If you want to sew the deck chair slings yourself just Buy Deckchair Fabric
Why not Add a Deckchair Headrest to complete your Deckchair Revamp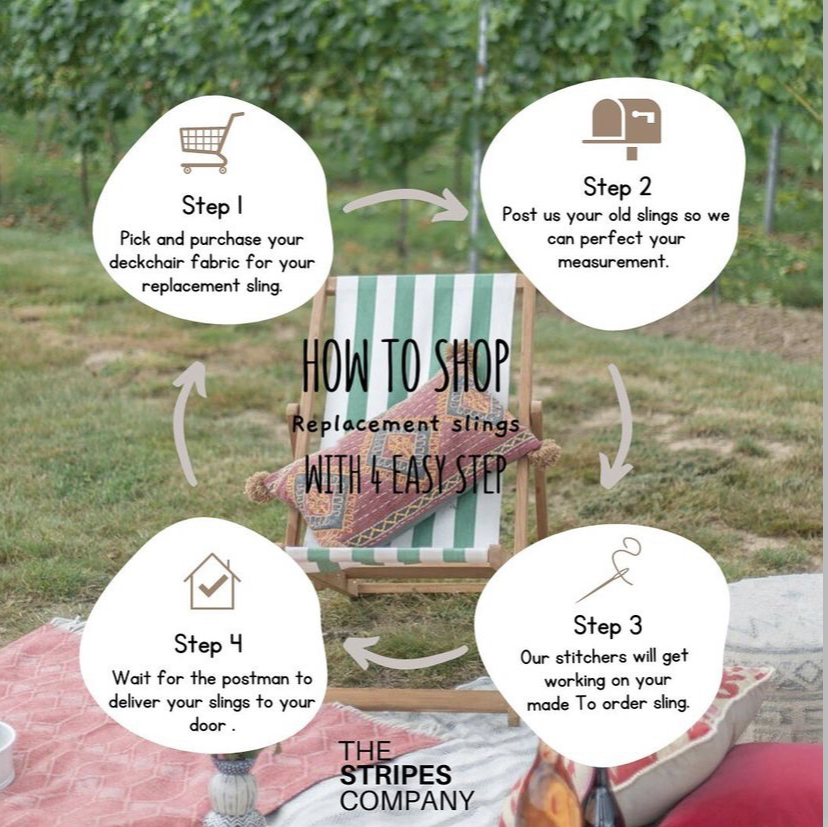 Replacement Deck Chair Slings fawn, terracotta, turquoise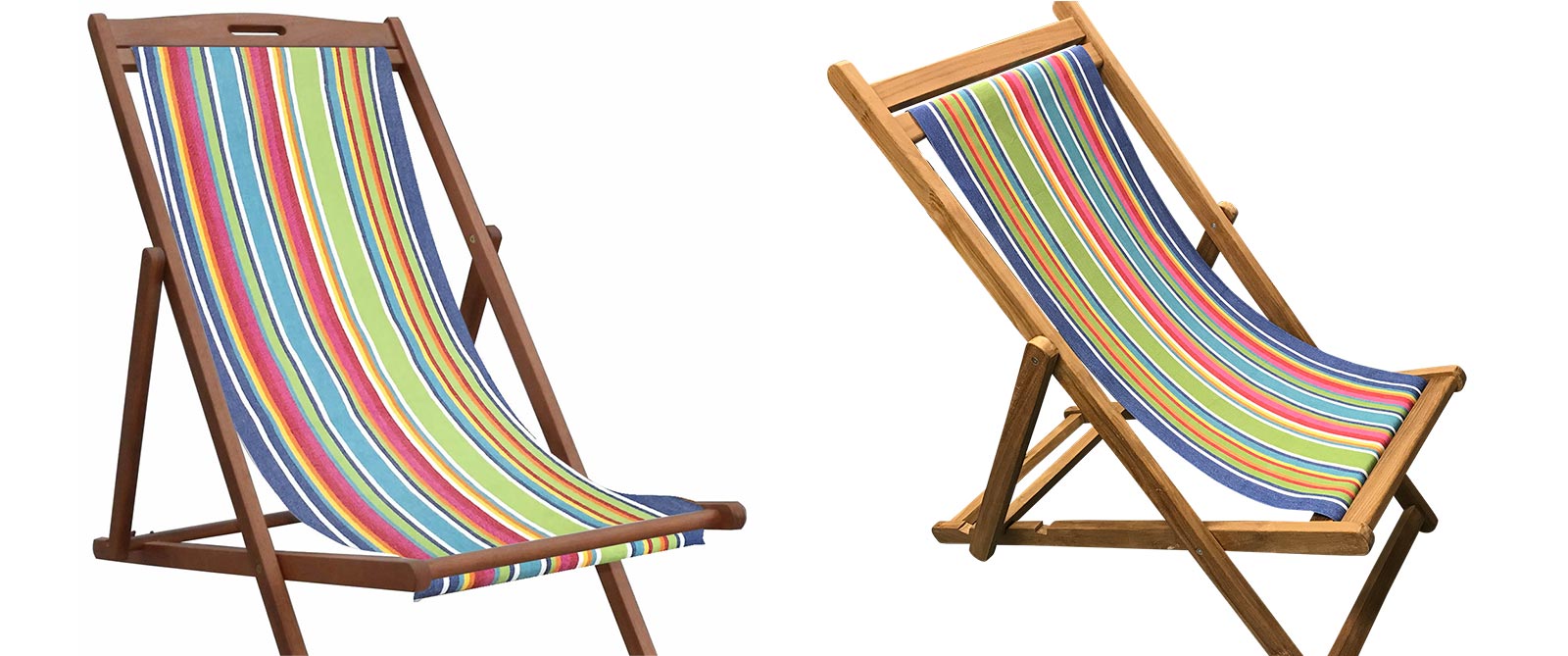 You MUST read Ordering Instructions on this page
Select Quantity
There are NO standard sizes for Deck Chair Slings so you MUST SEND US your old deck chair slings as templates - as these will be made specially to fit your chair
Please Read ALL ORDERING INSTRUCTIONS
We use 100% cotton fabrics with no synthetics or toxic colour fasteners as used in the past so they will fade quicker if left out in strong sunlight and adverse weather conditions.
The very nature of a deck chair was as an instant chair to sit in the sun - and folded away again when it rains!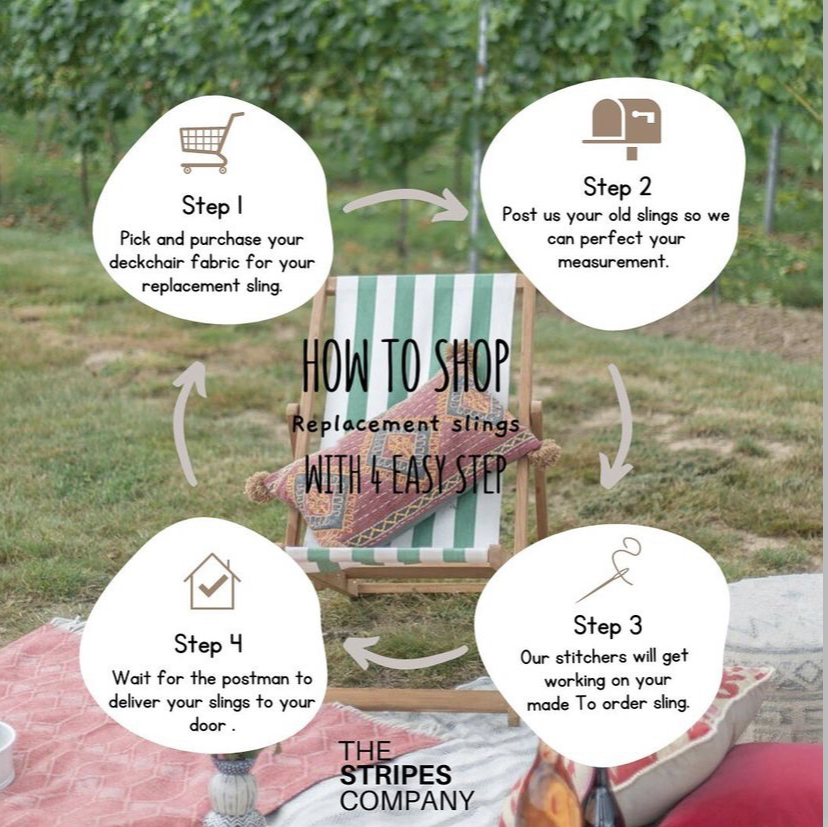 ---
Request a Sample Swatch
Swatch Vintage Canvas 45cm-Dice
---
For how to order and orders outside UK see Ordering
Customers also bought these items in Dice...