The Stripes Company Testimonials
What our Customers say about us
Thank you so much for the prompt service and excellent quality material, now my chairs have another lease of life
Alison M - Lincoln
August 24th 2017 - Vintage Deckchair Canvas - Lido and Bagatelle
Amazing service!
Can't believe it's here already!
Thank you for the beautiful fabric. I will definitely recommend you to others - and hopefully use you again myself!
Kindest regards, Lucia M
August 24th 2017 - Vintage Deckchair Canvas - Kickball
Thanks so much for sending this fabric order so quickly, it arrived on Saturday morning!
I have been re-varnishing 3 directors chairs that I bought second hand, so ready to go with the fabric!
Many thanks for such good service. Allison J
August 17th 2017 - Deckchair Canvas - Petanque, Mahjong, Boules and Yoga
I found two dilapidated deckchairs in my cousin's shed after he died.
The fabric was '60s and very ripe!
A little teak oil and a length of your beautiful heritage fabric has given the frames new life and my family loves the retro look.
Many thanks for your prompt delivery. Kind regards, Audrey B
July 15th 2017 - Vintage Deckchair Canvas - Hula Hoop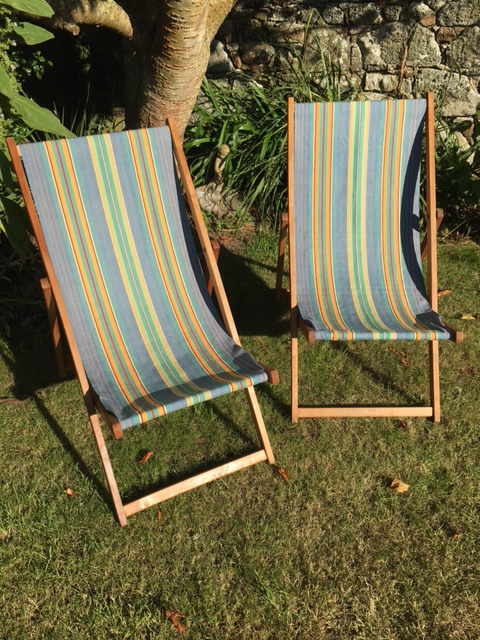 I ordered some poly-red and poly-blue deckchair canvas yesterday.
It has just arrived, within 24 hours, beautifully wrapped, exactly what I wanted, AND with 2 striped sweeties too!
Thank you SO much for such brilliant service and for what will be shortly be 2 brilliant striped (and resurrected) deckchairs.
With best wishes, Phyllis D
July 14th 2017 - polyethelene Deckchair Canvas - Red/White and Blue/White
Thank you so much for your very prompt dispatch of the order below.
It arrived this morning and I love the material, it will refurbish an old deck chair very nicely.
Thank you, Angela M
July 4th 2017 - Vintage Deckchair Canvas - Slamball
My order arrived quickly and I'm pleased with the quality of the canvas.
I've attached a photo of one of my completed chair renovations - only three more to go.
Kind regards, Julia H
June 18th 2017 - Vintage Deckchair Canvas - Lido
Just to say thank you for your prompt and excellent service.
I sent the old directors chair covers to you on Tuesday 13th June, with copy of my order, and received covers on Saturday 17th. Would recommend you.
Thanks again, Sandra S
June 17th 2017 - Replacement Directors Chair Covers in Orange and White Stripe
Just wanted to thank you for getting the replacement deckchair slings back to us so promptly - in time for the birthday girl!!
Wonderful service!!
With kind regards, Mary-Jane H
June 6th 2017 - Replacement Deckchair Slings in Plain Black Canvas.
Just wanted to say that I have received both the deck and director chair covers;
that they have been successfully attached to the original frames; and that you did a superb job!
Many thanks, Marcus CD
May 10th 2017 - 6 sets of Replacement Directors Chair Covers in Hula Hoop Stripe and Replacement Deckchair Slings in Bagatelle.
Dear Stripes team, I received the replacement covers this morning and they are excellent!
Thank you for a very efficient and speedy service!
With best wishes, Geoff L
May 9th 2017 - Replacement Directors Chair Covers in Aquatics Stripe
Thank you order arrived today - that was quick.
Thank you for answering all my questions too. Great service too.
Kind regards, Fiona B
April 12th 2017 - Jazz Vintage Deckchair Fabric
Directors chair cover fits perfectly and looks great.
Thank you
Jenny Collingwood
April 4th 2017 - Replacement Directors Chair Covers in Blue and White Stripes - Soccer
Thank you for the perfect edging !
I searched all over for a suitable edge for some old material that has been curtains in my last three homes. It has now been turned into these rather funky cushions for my sons first home!!!
Jane S
March 16th 2017 - Large Multi Coloured Bobble Fringe - Karting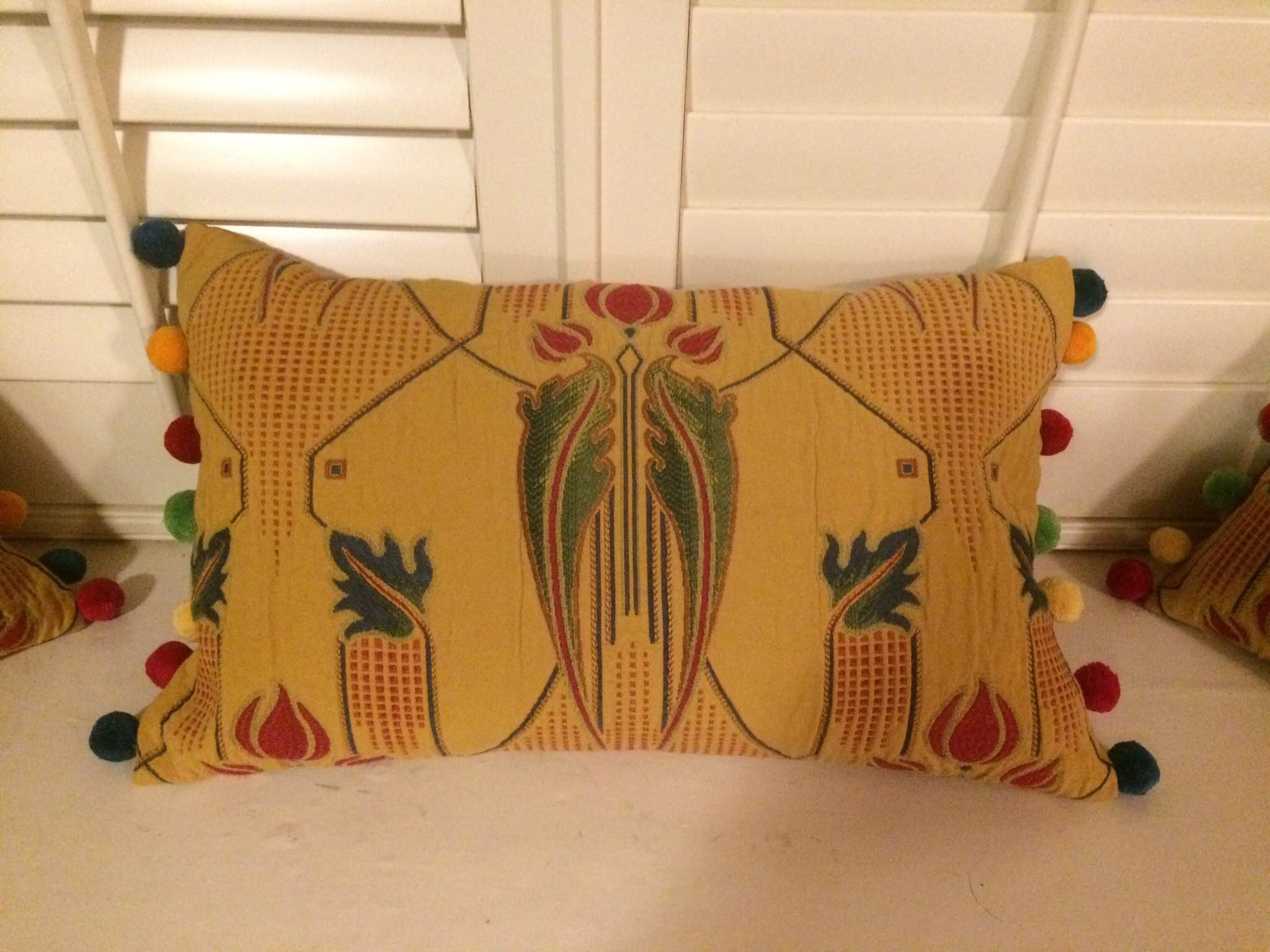 The wonderful deck chair has arrived ! My husband absolutely loves it.
What a brilliant service you offer. I will recommend you to everyone who admires this lovely edwardian deck chair. Thank you so much for your efficiency.
Best Wishes, Mary T
March 9th 2017 - Edwardian Deckchairs
I was thrilled to receive the parcel of replacement deckchair covers
You were so quick to sew them all and get them out to us. After an easy job to put the canvas on the chairs they look absolutely fantastic we are delighted with them and thought you might like to see how fab they look.
Thank you for being so efficient and quick...a brilliant service
Kind regards, Cathy W
January 29th 2017 - Replacement Deckchair Slings. We also made Replacement Canopies and Footstool covers for Cathy's 2 Edwardian Deckchairs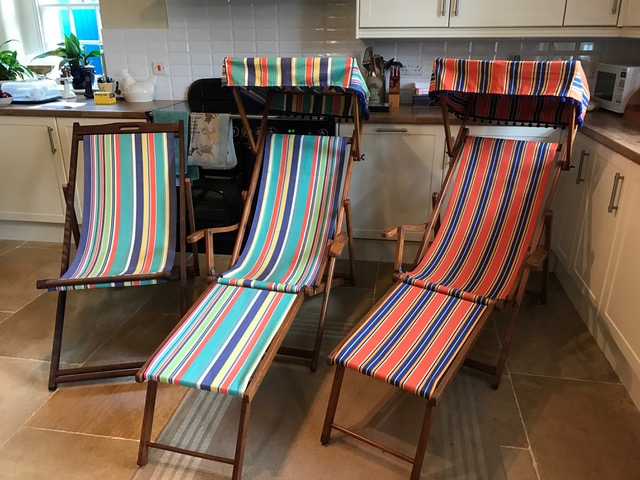 Thank you so much for my floor cushions. They go perfectly with the matching blind in my kids' playroom.
Such quick delivery too. I ordered them on Christmas Eve not expecting them to arrive until after New Year but they arrived today, which means my kids can use them during the Christmas holidays!
Kind regards, Sarah M
December 28th 2016 - Large Floor Cushions - Climbing Stripe
Looking just as beautiful as I had dreamed they would!
I just finished making some large roman blinds for our chapel. Three were made using Aerobics fabric and one in Volleyball. I had your fabric swatches pinned to the wall for about 3 years before the building finally got to the stage where I could make the roman blinds. Here i€™s a picture of one of them, looking just as beautiful as I had dreamed they would.
Best wishes, Pamela B
November 24th 2016 - Striped fabric 150cm wide - Aerobics & Volleyball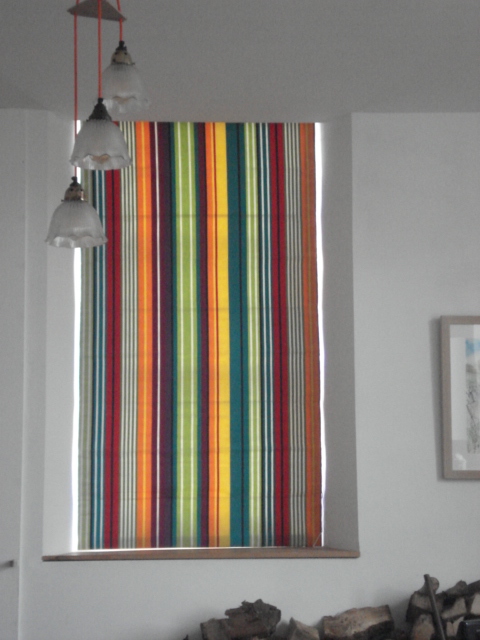 Amazing service thank you so much.
Kind regards, Shelley B
October 14th 2016 - Deckchair Canvas - Red
Thank you so much for the deckchair fabric, it arrived far sooner than expected.
As I explained to the young lady who took our order the old deckchair was discovered in my father in law's loft, it's material hanging off in shreds.
We rescued it, sanded it down, treated the wood with teak oil and then, thanks to you put on new cloth. Pic attached.
Once again, thank you for your help,
Yours faithfully, Elizabeth E
October 10th 2016 - Deckchair Canvas - Skipping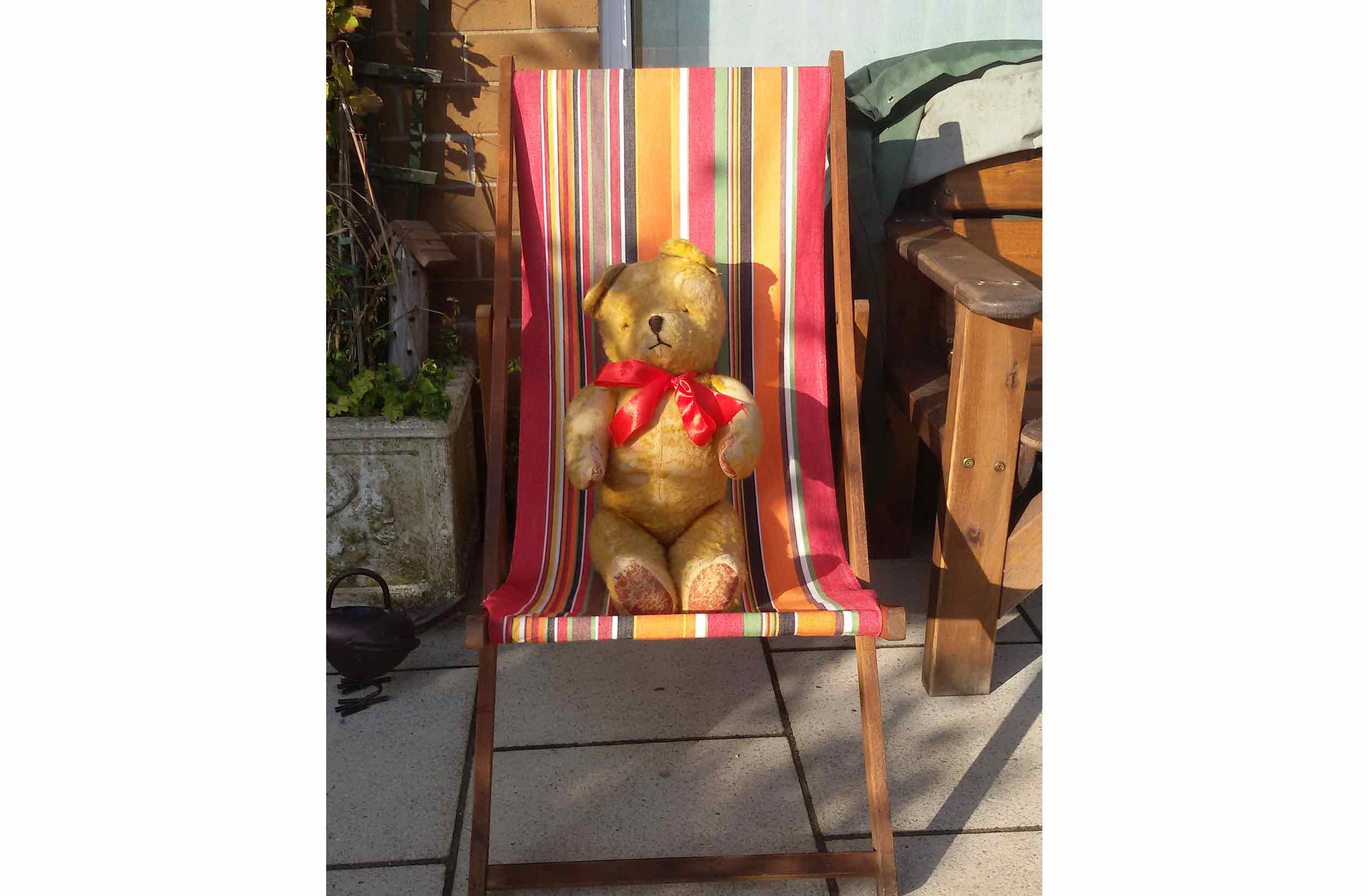 I Love these Blinds!
Thank you Maria for perservering with this order. We got there eventually and the result is amazing. I am really pleased with these blinds, even better than I envisaged.
Many thanks, Linda
October 7th 2016 - Striped Vertical Blinds - Climbing Fabric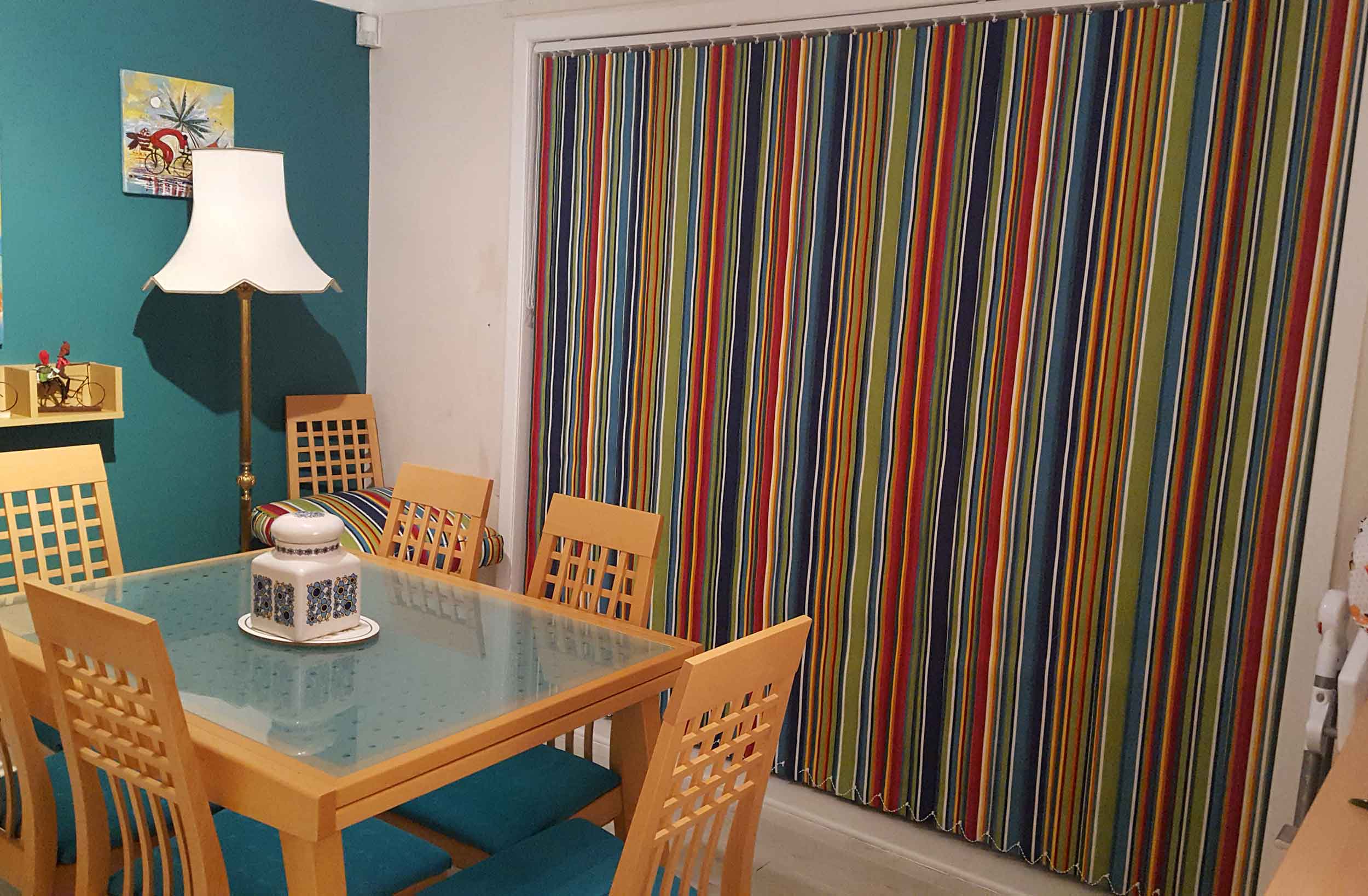 My striped webbing arrived very promptly on Monday.
Fantastic quality and beautifully packaged. Will be back for more items that I have my eye on!
Penelope M
October 5th 2016 - Striped Webbing - Jig
Massive thanks, my perfect cushion arrived today!
Just to say I think The Stripes Company has very well priced products, offers excellent service and very quick delivery - the perfect package!
Thank you, Victoria S
September 23rd 2016 - Striped Oblong Cushion
Just wanted to let you know how gorgeous my espadrilles are!
Love the colours and fit, also the lovely drawstring striped bag they came in.
Thanks Chloe H
September 17th 2016 - Striped Espadrilles
I just wanted to thank you very much for your help with my order.
It came last Thursday, beautifully packaged.
We are very happy with our choice and your customer service is wonderful.
I would recommend your company to anyone.
Thanks again, M McK
September 8th 2016 - Deckchair Canvas - Punting and Multicolour Bobble Fringe - Basketball
I just wanted to thank you enormously for our new directors chair covers
They are fab-tastic & look amazing:
Thank you so so much! Lissie M
September 4th 2016 - 4 Directors Chair Covers Sets in Vintage Bagatelle
Thank you for your prompt and efficient service!
Order placed at 1pm yesterday, parcel received at 1.40pm today. Amazing!
Beautiful fabric - recovering two old deckchair frames found in my Great Aunt's shed whilst clearing out!
Thank you so much, Alison K
August 24th 2016 - Deckchair Canvas - Climbing
My Roman Blind in Skiing fabric - looks lovely
Just to let you know that I am so very pleased with my new blind, it looks lovely and so very well made - it has put the finishing touch to our new kitchen.
We are just about to return to our home which has had to be totally refurbished as it was badly flooded during Storm Desmond in December - so this blind makes our kitchen very cheerful !
Once again many thanks. Berenice B
16 August 2016 - Made to Measure Striped Roman Blinds
Just emailing to thank you for my order - I am THRILLED!
Also, many thanks for getting in touch regarding the eyelets which finished off the back panel - it's given it a very professional look!.
Jane A
July 22nd 2016 - Directors Chair Covers Set - Yoga
Super material, love the rock!
Thanks, Michelle P
July 19th 2016 - Vintage Deckchair Canvas - Hula Hoop
Just a quick email to thank you for your brilliant service.
Ordered Wednesday, delivered Thursday. Order was exactly as I hoped and beautifully presented.
Thank you. You are proof that good customer service still exists.
Helen P
July 7th 2016 - Lime Green Deckchair Canvas - Sprinting
Thank you it arrived this morning. First class service thank you.
Helen W
June 29th 2016 - Deckchair Canvas - Yachting Stripe
Many thanks – superb service as always.
Andrea G
June 2nd 2016 - Deckchair Canvas - Flamenco
I just want to congratulate you on your fantastic service!
I ordered deck chair canvas by phone on friday after 4pm and it arrived first thing saturday morning! With two delicious sweets as well!. I have now done my chair and it looks really good, hopefully the sun will shine and I shall enjoy sitting in it!
Many Thanks, I shall spread the word about you, Yours Alexandra C
May 22nd 2016 - Vintage Deckchair Canvas - Slamball
Wow. What outstanding service!!
Yesterday morning, I looked at our two sad directors chairs and thought they needed smartening up. I had already bookmarked your site, so chose the fabric and placed my order just before lunchtime. In the early afternoon I received the email below – my fabric had already been dispatched. It arrived late this morning and feeling thrilled by the beautiful colours and motivated to get going, I switched on the sewing machine and set to work. It's now 6.30pm and 36 hours after thinking "I might have a go at perking those chairs up", they are very perky indeed!
I wanted to thank you for such remarkable efficiency, for a great product and for doing what you do so very well!
I couldn't believe how easy it was, really – nor understand why I hadn't done something before!
With best wishes and sincere thanks. Gill
May 19th 2016 - Deckchair Canvas - Aerobics Stripe
Thanks...my order arrived today, very prompt and efficient service
The sweets were a welcome surprise
Thanks again, Iain
May 18th 2016 - Synthetic Deckchair Fabric - Blue and White Stripe
Thank you so much. Love the bunting. Put it up straight away.
Thanks, Zoe P
May 12th 2016 - Cotton Bunting
My lovely deckchair fabric arrived today, along with matching hat and tacks for my vintage low level, extremely comfy deck chair.
I am thrilled. The sweeties were an inspiration!
Love the web site too.
Many thanks, Jane E
May 10th 2016 - Deckchair Canvas - Climbing Stripe and Striped Hat
Just found your ideas blog with examples of what you are doing with the material.
Thought you would like to know that My daughter told me about you and I made her some curtains in your lovely fabric, then bought some to make bean bags for our two rescue greyhounds. As you see the colours of your fabric coordinate with the rug! Thought you might consider adding dog beds to your range of products! These have worn so well and of course wash beautifully.
Mary M
8th April 2016 - The Stripes Company Fabric used to make bean bags for use as Dog Beds - Striped Fabric Baseball
I received my fabric, I just wanted to say thank you so very much for your patience.
The fabric is so beautiful!! I hope to purchase from you again in the future!
Thanks again Elaine
March 1st 2016 - Teal Striped Cotton Fabric for Blinds, Curtains, Soft Furnishings - Swing Stripe
Wow! This is how customer service should be.
Not only was my order despatched within an hour of ordering, but I received a call to double-check my quantity barely five minutes after I'd clicked 'pay'. I appreciated the attractive packaging and sweeties.
Thank you. Joy M
Feb 15th 2016 - Deckchair Canvas - Sky blue, beige and white Karate Stripe
I have just received the roller blind you have made up for me
and would like to let you know that I am very pleased with it, we have not yet hung it but can see that it is going to look terrific.
The end caps and fittings are very well made and much better than those on other blinds I have had made in the past.
Many Thanks Chris B
Feb 6th 2016 - Striped Roller Blinds in Climbing Striped Fabric
I bought one of your aprons about 5 years ago.
Being a potter, it is used every single day, and washed at least 4 times per week. With the colours now fading, I bought 3 more, and people LOVE them! The design is generous in length and width, and the pockets are deep, so it's just perfect for messy creative work. I will recommend them to my customers!
Thanks for such a brilliant product. Claire W
Dec 7th 2015 - Striped Cotton Aprons
I have received my order today, so promptly and am delighted!.
When cushions are made up and everything is in situ I will sent you some photographs.
Thank you for you help and speedy attention.
Best regards Lily K
Oct 13th 2015 - Deckchairs, Windbreaks, Striped fabric and Water repellent fabric all in 'Trapeze'
It was a pleasure talking to you
Thank you for a speedy service, which was received yesterday. We were both very pleased with the items purchased; the quality is excellent!
The goodies included were such a pleasant surprise, something very rare when we purchase anything online.
I will look forward to doing some more business with you again
Best Wishes, Christine G
Sept 4th 2015 - Foldaway Waterproof Mac in a Pouch
A big 'thank you' to you and The Stripes Company for the directors chair covers you supplied to me in Soccer deckchair canvas.
They are just what I wanted and have rejuvenated my chairs.
Kind regards, Joanna M
August 17th 2015 - 4 sets of Replacement Directors Chair Covers in Blue and White Stripe Deckchair Canvas
Hello, Just wanted to say how impressed I am by your website and service to match!
My parcel arrived this morning - beautifully presented - and the quality of the canvas exceeded my expectations.
Bravo, Kirsty F in France
July 7th 2015 - Vintage Deckchair Canvas - Bagatelle Stripe
Just want to say how pleased I am with the large hamman towel I purchased recently and used on holiday.
My husband was very jealous and I guess I'll have to buy one for him too!
Many thanks Marion H
July 6th 2015 - Hammam Towels
Dear 'The Team', My parcel arrived today. Thank you so much for the prompt delivery of it.
The different materials look great and I look forward to re-covering my deckchairs in a couple of weeks time once I'm back off my hols.
Loved the sweets. Many thanks, Charlotte G
June 16th 2015 - Deckchair Canvas - Paintballing, Swimming and Punting Stripes
Received my order just now and am emailing to say how happy I am with it - and the sweeties !!
And the little shoe-bag !
Many thanks - I shall be back soon for a sunhat !! Ann R
June 16th 2015 - Espadrilles - Marathon Stripe
Hi. I received my parcel of deckchair fabric today. I just wanted to say how beautifully packaged it is!
I haven't yet untied it as it looks too nice!
Thanks Alison B
June 11th 2015 - Deckchair Canvas - Climbing Stripes
Just wanted to say a huge thank you for sending my sun shelter so quickly
I've wanted one of these for years and am absolutely thrilled with it. It was hard choosing which striped fabric but I love the one I decided on. Only wish I'd ordered some matching cushions!
Oh and those sweets in the parcel were great, I'd have ordered a bag full of those to go in the party bags for my daughters birthday!
Once again, thank you so much! Jennie F
May 14th 2015 - Edwardian Sun Shelter - Parachuting Stripe
I just wanted to say how pleased I was with the wonderful deck chair fabric
I can't wait to get home this evening to bring our poor, tatty old deckchairs back to life. What great service with such speedy delivery & the sweets were a lovely touch.
Thank you, Sian E
April 16th 2015 - Deck Chair Fabric - Karting Pink Stripe
Thank you very much for the quick dispatch of swatches and then deckchair canvas to complete my recent order.
The chairs look very smart and all we need now is the warm weather to sit in the garden and eat your pieces of rock.
Excellent. Regards Liz R
April 2nd 2015 - Deckchair Canvas Dark Green
Many thanks for the gorgeous fabric, I've just finished cutting out and I'll be issuing sunglasses to the staff,
after I've made the covers, because it will definitely brighten the place up! The sweets were much appreciated too.
Regards, Anneliese - Theatr FelinFach
March 13th 2015 - Pink, Blue, Green, Tangerine and White Striped Cotton Fabric for Blinds, Curtains, Soft Furnishings - Weightlifting Stripe
My deckchair arrived on Monday. I think it is the most sturdy & colourful deckchair I have ever seen!
Absolutely thrilled! I am working in my garden studio on a stained glass project. This is where the deckchair will live so that I can take a rest & plan my next creative move.
Thank you, Best wishes
Sue
February 4th 2015 - Deckchair with Sprinting Stripe Deckchair Sling
Hi, I simply wanted to contact you to say thank you for your great service, I ordered fabric online yesterday morning and was delighted to receive it this morning at 9.30 am, less than 24 hours later.
I love the colours and can't wait to get sewing.
Many thanks, Bryony
January 31st 2015 - 150cm Striped Cotton Fabric for Blinds, Curtains, Soft Furnishings - Wakeboarding Stripe
Our Armchair!
We are thrilled with our recovered old chair. It was tired and unwanted when it arrived at our house - everyone loves it now! Not sure the upholsterer was as delighted when we showed him the fabric as he had to match the stripes but he did a fantastic job.
Many thanks, Miriam L
January 28th 2015 - 150cm Striped Cotton Fabric for Blinds, Curtains, Soft Furnishings - Waterpolo Stripe
My order has just arrived. Thank you for the speed and the quality. Really pleased.
Best wishes, Susan E
January 26th 2015 - 4 sets of Replacement Directors Chair Covers
Absolutely delighted with your service.... lovely clear website
extremely speedy delivery, enchantingly wrapped and adorned with sweeties. Thank you for giving an old deckchair and its owners a new lease of life!
Charlie
January 21st 2015 - Deckchair Canvas - Mahjong Stripe
Just a note to say thank you so much for a super quick service, lovely customer service & as for the luggage folding racks they look great!
Thank you once more, will be in touch soon.
Pippa
January 21st 2015
Package arrived this morning at 9 am. Brilliant service, as always
Very pleased with the Scarves, they are supposed to be Christmas Gifts but I think I will have to keep one for myself!
Thanks, Patricia B
December 4th 2014 - Merino Wool Scarves
Really pleased with this purchase - great quality.
Gwyneth S
December 1st 2014 - Stripe Tea Towel Sets
Just wanted to say received my order on Tuesday. Really pleased with it excellent quality
also thank you for the rock sweets. What a lovely touch.
Kind regards, Sharon W
December 1st 2014 - Majorette Vintage Deckchair Canvas
Many thanks for producing such a beautiful quality blind.
We would definitely recommend your company to friends and family.
With best wishes, Jennifer P
October 21st 2014 - Striped Roman Blinds for Nursery
Am completely delighted with the fabric, the support I had on the phone from Deckchair Stripes and the super fast delivery.
Thank you, I couldn't be happier with the final result.
Alison F
October 17th 2014 - Interior Stripe Fabric - Cricket Stripe
Just received my black deckchair fabric. Wanted to say a massive thankyou.
So quick and the amazing attention to detail with ribbon and sweets that was a fantastic touch.
You made my day.
Caren T
October 10th 2014 - Black Deckchair Canvas
Hello, I just wanted to let you know how amazed I am with your products and service
I only placed my order the night before last and my parcel arrived this morning! Not only that, it was such a lovely surprise to find the rock sweets and the lovely way the canvas was tied up with ribbon. It brightened up an otherwise average day at work. I will certainly buy from you again.
Alison E
September 19th 2014 - Deep Turquoise Deckchair canvas - Swimming stripe
Thank you very much for my wonderful blinds I loved them so much I have another order for you
I think our house will be done out in stripes soon !! It looks amazing so glad I found your website
Kim and Matt B
September 8th 2014 - Striped Roman Blinds - Boxing and Hurdling stripes
Wonderful service and fabric. Delivered in 24 hours!
Sucking a sweet as I type, thanks, Hazel S
August 28th 2014 - Vintage Deckchair canvas - Slamball stripe
Goods received today. Amazing service - and beautifully presented.
Thank you. Regards, Keith S
August 22nd 2014 - Pink Deckchair canvas - Racquets stripe
I have just received my beach towels and I wanted to let you know that I am extremely impressed by both the product and the excellent, efficient service that you and your colleagues have provided.
Thank you – if only all companies were as good!
I will certainly buy your products again and will recommend you highly to others.
Kind regards Sue Y
July 31st 2014 - Striped Border Beach Towels
Thank you so much. I love the fabric - its brilliant! Wonderfully prompt service. I can't wait to rejuvenate my old deck chairs.
Celia
July 30th 2014 - Vintage Deckchair Canvas - Kickball
Delighted with material, your advice and efficiency of service.
Peter and Valerie S
July 4th 2014 - Deckchair canvas - Mahjong stripe
I have just received the most delicious (and prompt) parcel from you....oh these stripes cushions have surpassed all my expectations.
They are an absolute joy to the eye, so exciting, so cheery, I feel happy! And the sweets...what can I say...can I buy a bag full from you?? Matching striped sweets...ultimate summer bliss.
Thank you so much, Christine R
July 1st 2014 - Christine bought our Cushions with bobble fringe
My cushions, which I ordered on Wednesday, arrived Friday afternoon
and I would just like to say they are exactly as I had hoped they would be. My two first choices were both out of stock but the 'Darts' design matches perfectly. I have trailed garden centres and department stores for months for something 'a bit different', I just wish you had a shop more locally.
Many thanks again. C Ness (Miss)
June 28th 2014
Fantastic service (arrived 2 days after order). Minimal appropriate packaging - all very neatly done.
The fabric (Vintage Kickball) exactly as picture on website and lovely quality. It's perfect for the old and slightly shabby deckchair on which the original sling finally disintegrated. Really clear and helpful guide to replacing fabric on your website.
Great products, great service. Many Thanks. Moira R
June 27th 2014
So pleased with fabric, ordered Wednesday and delivered Thursday
The same day I collected my vintage deckchairs for refurbishing. Looking forward to seeing the finished result.
Thanks loads Jacqui
June 13th 2014
Delighted with cushions received lunchtime today.
Amazing delivery time hence my order for two more!
Thank you! Chris C
May 15th 2014
Fabric came yesterday. Absolutely lovely, exactly as advertised.
I'll follow your help video but look forward to my renovated deck chair if the sun ever shines again.
Sweets were a nice touch thanks, Jane W
May 9th 2014
I just wanted to say thank you for the amazing service.
Order placed on Sunday and delivered Wednesday with a Bank Holiday on Monday! And the fabric is just beautiful. A very satisfied customer! Anne
May 7th 2014
I would like to say thank you to you for processing my order not too long ago and for making sure the deckchair arrives safely without any hassle (to Germany).
Many thanks, Mim
May 7th 2014
The two Skittles blinds which you kindly sent to us are now fitted and look superb in the kitchen of our new house.
They complement wonderfully the Skittles curtains which are in the adjoining family room. We are delighted with them, and thank you for all your help.
Best wishes, Phillip and Andrea R
April 25th 2014 see Gallery
Deckchair canvas ordered yesterday, received this morning. Superb service much appreciated.
Many thanks, Peter H
April 25th 2014
I have received my new directors chair covers today and they look fantastic!
Exactly what I wanted, they will look fab in the garden.
Thank you Deck Chair Stripes. Regards, Kirsty
April 23rd 2014
It has arrived - in super quick time too - lovely material (Kickball Vintage Deckchair Canvas)!
and like the rock name logo - very original - thank you and best wishes
Suzanne
April 14th 2014
Received my material very promptly, and have recovered directors chairs and others.
The quality of the material is great, also very pleased with the colours.
Sweets were yummy. Many thanks. Margaret P
April 10th 2014
I am amazed at the speed of your delivery. I ordered this on 14th January at approx 4.30pm and got it before 9am on 15th January.
Thank you - the canvas looks great. I just need to get the deckchairs recovered now before the warm weather comes!
Regards, Maureen R
January 15th 2014
Just wanted to say how pleased I was with your speed of delivery.
Ordering goods over breakfast on New Year's Day and receiving them on the 3rd is very impressive.
Well done, and thank you! Hannah
January 3rd 2014
Just to say my order arrived today. Thank you for such speedy service and for the lovely packing.
The cushions are in situ and in use on my old church bench. The deckchair striped sweeties are a lovely touch and put a smile on my face!
Best wishes Barbara
January 3rd 2014
It's not a question but just to thank you. I think this is the fastest delivery I have ever received
ordered pm yesterday and here in rural Cumbria this morning. Well done! The gloves look great too.
Best Christmas wishes, Maureen
December 16th 2013
I received my deckchair canvas this afternoon, and am very happy with my choice.
Looking forward to getting that super fabric on my deck chairs!
Thank you for a great service. Suzy
August 20th 2013
I'm very happy to report the speedy and safe arrival of my order this morning. I am delighted with everything (it may be wrong to find an ironing cover so satisfying)
but I would particularly like to compliment you on the bunting It's fantastic - lovely colours and great quality. We are decorating a corner of our bedroom as a nursery for our imminent new arrival and are rebelling against the usual baby pink/blue/pastels. Lots of bold colours and contrasts - much better and more interesting!
Love it - May now have to think of things to make as an excuse to get patchwork packs...
Thanks again, Best wishes, Jo B, Oxfordshire
August 8th 2013
Just a quick email to thank you for the help over the phone, the prompt service( next day delivery) and excellent deck chair canvas
Thanks, Nicholas AJ
August 6th 2013
Just to let you know that received the replacement director deckchair covers on Saturday 3rd August. I was so surprised to receive them so soon.
Thank you for sending them that quick - they are a good fit and really look so nice - like new.
Will recommend you to my friends and colleagues. Sylvia H
August 5th 2013
Replacement Directors Chair Cover in Fencing
I am delighted with it.
Thank you. Lesley F
August 5th 2013
Replacement Directors Chair Covers in Hiking
We received these today and they are wonderful!
The colours, the size, the quality of the stitching, they are perfect.
Thank you for a brilliant service which we will recommend to everyone. Sue
August 3rd 2013
.....just to say thank you very much for your prompt and efficient service. I received the swatches promptly and I ordered the fabric on the evening of Friday 28th.
The fabric arrived Tuesday morning after your Monday email saying it had been dispatched. I am delighted with the quality and my living room with muted toned sofas now has a statement chair with Tango deckchair striped cushions. I will definitely recommend your company.
Kind regards, Alison R
July 3rd 2013
Just wanted to say what a fab service
Ordered the large pink bobbles on Friday morning and they arrived today (Sat) – the tapestry cushion is now finished and looks just wonderful. I cannot thank you enough for this excellent service and will be using you again when the next tapestry is nearly finished and we need more bobbles!!
Kind regards, Jill F, Isle of Man
June 22nd 2013
Replacement Director Chair Seat and Back covers
I just wanted to drop you a line to say how delighted I am with the Replacement Director Chair seat and back covers which you have produced for me. I was despairing of being able to replace the old ones, when I came across your website purely by chance when I was looking for traditional deckchairs!!
The result is fabulous. The chairs look good as new and will now enjoy many more years of service. Thank you.
I will be recommending your company highly to my friends and having found some super gift ideas on your website, will certainly be purchasing again from you in the very near future. With my very best regards, Caroline P
June 12th 2013
Thankyou for your excellent service.
I received my order today, very speedy processing and delivery. Lovely touch to enclose some rock.
Thanks, Ian W
June 11th 2013
I just wanted to let you know that I am delighted with my deckchair material I ordered from you.
I ordered the "boules" pattern, and it looks fantastic. The delivery was very quick too!!
Thanks again and I shall be ordering more of the same to make cushion covers for my patio furniture. Sue K
June 10th 2013
Really pleased with the directors chair covers in Ninjitsu.
Matched the fabric with a plain purple umbrella and the effect is really great.
Thank you for taking the hard work out of this for me.
Carol S
June 10th 2013
I've just received my Weightlifting fabric, and wanted to let you know how delighted I am with it.
I've looked all over for something like this, and the only difficult part of the order was narrowing down the fabric choice. I'm using it to upholster the seats in my camper conversion.
Thank you! Lynne R
June 9th 2013
Absolutely fabulous!
Yesterday - the sunshine reminds me of the ratty old deckchairs with mouldering fabric picked up at a car-boot last 'summer'. So I have a quick Google. Today – my choice from your glorious website arrives in the post and this afternoon I am snoozing in my beautiful new deckchair!
Thank you – superb fabrics and superb service! I can't recommend you enough.
Mrs P Y
June 7th 2013
Thank you, thank you.
My directors chair is now dressed for the summer and how fantastic it looks too. You guys have made a lovely job of it.
Best wishes John
June 7th 2013
Thank you, very impressed with your service
received my deckchair canvas this morning.
Annamaria G
June 7th 2013
I thought I should let you know how thrilled I am with my refurbished directors' chairs.
Quite a few friends and relations have also made positive comments about the new covers, not to mention the builders working on my house at present!
With kind regards Jane
June 6th 2013
The deck chairs arrived safely yesterday - they are wonderful - really lovely
We have just got back from giving them to our brother-in-law for his 50th birthday and he was very pleased with them.
Thank you very much for such a rapid and excellent service. Ali
May 12th 2013
Our material arrived the next day !
We're delighted with the quality & we now have 6 new re-upholstered directors chairs !
Keep it up ! Steve
May 5th 2013
WOW! 5* to Deckchair Stripes!
My 1st order that I placed yesterday morning arrived early this morning! Very pleased customer and I WILL be back THANK YOU! Debbie U
May 4th 2013
Just wanted to compliment you on two counts
1) Friendliness on phone when ordering and checking delivery
2) The lovely packaging with special ribbon and rock - brilliant touches.
You have a great product and with fabulous service I will definitely order from you again and recommend you to my friends. Carol F
April 17th 2013
Good Morning - and can I say what excellent service
My order arrived this morning before 9am - and I am thrilled with the contents of the parcel. Looks fab - my daughter will be very pleased once Ive made the replacement covers. The fabric is good quality and the colour are just yummy
Thank you so much for the prompt service and also your help re the Director Chairs. Ann O
April 16th 2013
Speedy Delivery
Just a quick note to thank you for my order (Skipping Deckchair Canvas and Boxing Webbing) which was ordered yesterday and arrived this morning.
Thank you again Irene
April 6th 2013
Thank you so much for the chair covers, they fit perfectly and look very smart.
Wendy H
March 24th 2013
Thank you so much for my order of Aga cooker hoods – which are very vibrant – and the place sets that you sent.
I cannot believe that they have arrived already. Happy Easter
Janet T
March 22nd 2013
Thank you, received this morning and looks wonderful!
We are driving to Crete next month and taking it to fit my husband's favourite Greek chair - will keep your details and give to friends who may have similar requirements.
Excellent service - thank you again.
Sandra M
March 19th 2013
I am very impressed by the level of service from your Company.
Not only did the order arrive the day after but the way it was packaged was delightful. And, the free gift of rock with your name running through it was lovely. Well done. I would not hesitate in recommending you to friends and family.
Jennifer J
CRANHAM HOUSE ACCOMMODATION BED & BREAKFAST AND SELF-CATERING
March 18th 2013
Thank you so much, the order arrived this morning, fantastic service and I will certainly be back and will tell all my friends.
Loved the little touch of the rock sweeets.
Maggie L
March 7th 2013
I am very impressed with both the fabric supplied and the very fast and efficient delivery.
We now have a very smart set for the garden.
Thank you, Jacqueline S
March 5th 2013
Thank you for your prompt service really pleased with fabric will recommend you to my friends.
Thank you again kind regards Margaret M
March 5th 2013
I got home this evening after a very stressful 4 days to find my gorgeous apron had arrived. It was a real treat! Completely perfect and I'm thrilled.
All stress disappeared and it is hanging on the kitchen door making me smile whenever I look at it. Almost too good to use, but I will delight in cooking, gardening and sorting out the hens, goats and any other livestock wearing it!
I'm a very happy customer and I am a 100% happy person! Yours Jane IR
March 4th 2013
Companies who have used our products
Films:
Nanny MacPhee and the Big Bang - Pinewood Studios
The House Directory
T.V
Downton Abbey - Series 4
and the Christmas Special
T.V - We have been featured on TV programmes such as:
DIY SOS & DIY SOS The Big Build
GMTV and
60 Minute Makeover
Peter Andre's 60 Minute Makeover
The Taste Tour