Premium Deck Chairs-Joker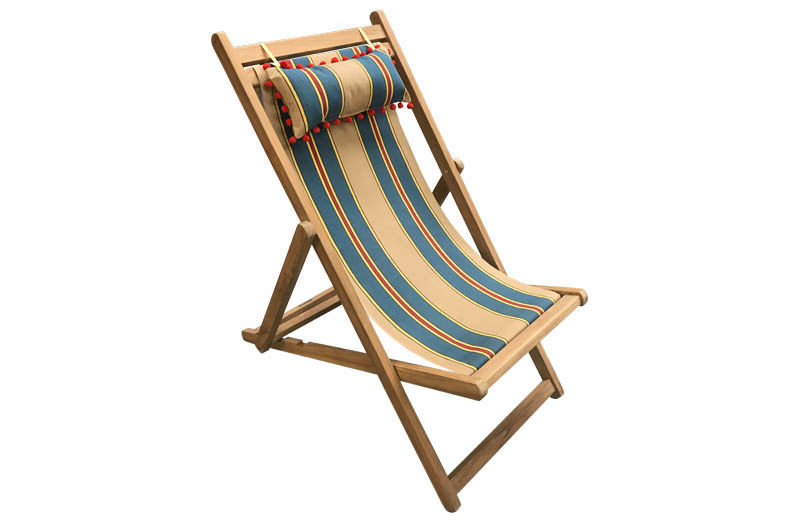 Premium Teak Deck Chairs with Vintage Beige, Mid Blue, Yellow and Red Stripe Sling
Our latest model with Removable Sling.
All our premium Teak Deck Chairs are made from grade A Teak to a design exclusive to the Stripes Company.
Each teak chair frame is covered to order in this lovely vintage beige, mid blue edged in yellow and red stripe deck chair canvas with a stitched sling on a removable dowelling rod so they are easily changed.
For Deck Chairs with Canopy and Footstool - see Edwardian Deckchairs
For our Original Deck Chairs with fixed sling - see Deckchairs
Premium Teak Deck Chairs make wonderful Gifts
Add a matching Headrest - sold seperately
---
Beige, blue, yellow - red stripes
Vintage Beige, Blue, Yellow Stripe Premium Deck Chairs
Add a matching Deckchair Headrest Cushion
Deckchairs make wonderful Gifts
Please note - we cover the ready made premium deckchair frames specially for you in any colour option of deckchair canvas, order as shown on each page.
Frame made from Hardwood Grade A Teak, a lovely warm honey colour.
Size folded 138cms x 60 cms
Premium Deckchairs can take up to 7 - 14 working days from ordering as we make the removable slings to order.
If you require them sooner please add Express Delivery to your basket and we will expedite them - this is not a next day service but 5-6 working days.
For other colour options see all our Premium Deck Chairs
We have a full range of Deck Chairs including Edwardian Deckchairs
---
Request a Sample Swatch
Swatch Vintage Canvas 45cm-Joker
---
For how to order and orders outside UK see Ordering
Customers also bought these items in Joker...