Pom Pom Throws-Kendo Grey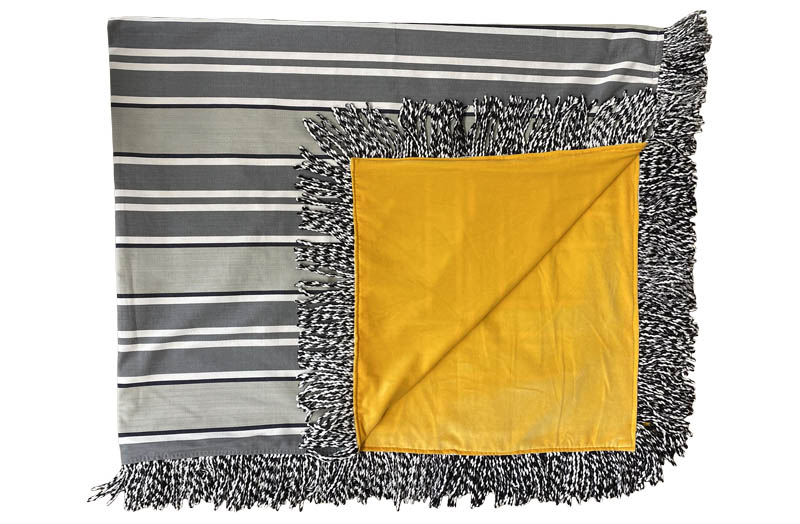 NEW Grey Striped Throws
Bullion Fringe Trimmed Grey Striped Cotton Reversible Yellow Velvet Throws
Using our gorgeous kendo grey and yellow velvet fabrics, together with black and white bullion fringe, we have designed a new range of striped throws to add a touch of style to your home.
150cm x 180cm Perfect for adourning a large bed, sofa or chairs
or 150cm x 250cm for superking beds or larger sofas
If you would like a Throw with a different combination of fabrics and pompoms not available to buy below
Please see our Create Your Own Mix and Match Throws
Dark grey, pale grey with thin black and white stripes
---
Grey, pale grey, black - white stripes
Grey Reversible Striped Velvet Throws Trimmed with Black and White Bullion Fringe
Select Quantity
Velvet Fabric Choice
Pompom Choice
Throw Size
Reverse Fabric Choice
100 % cotton striped fabric / velvet / pom poms
Hand made to order
Throw sizes 150cm x 180cm, 150cm x 200cm or 150cm x 250cm
Choose your own stripe/velvet/pompom/size combo Mix and Match Throws
As these are made to order items, they are non returnable
We advise customers to use our free swatch service for colour matching and quality before orders are placed (instructions may be found at the foot of every page).
Please check your measurements correctly as we are unable to accept returns on made to measure items. Our team is here to assist if needed for any questions before placing your order.
For a speedy response please use our contact us form.
---
---
For how to order and orders outside UK see Ordering
Customers also bought these items in Kendo Grey...