Outdoor Stripe Fabrics-Agora Lines Botella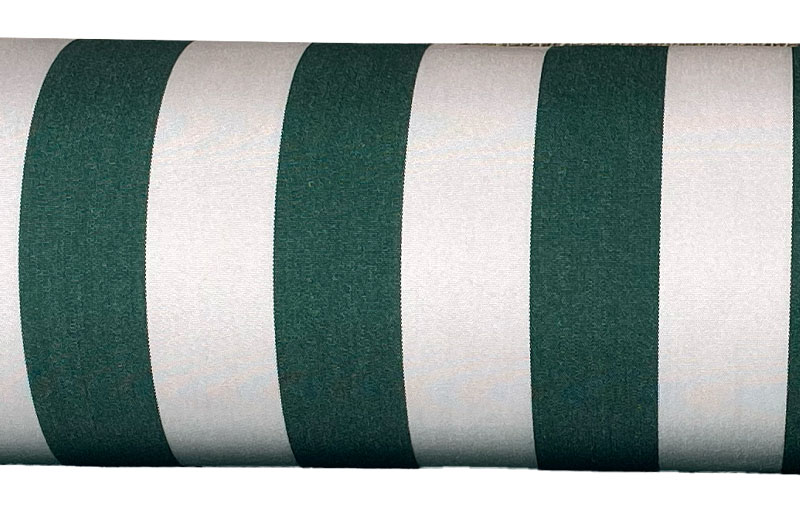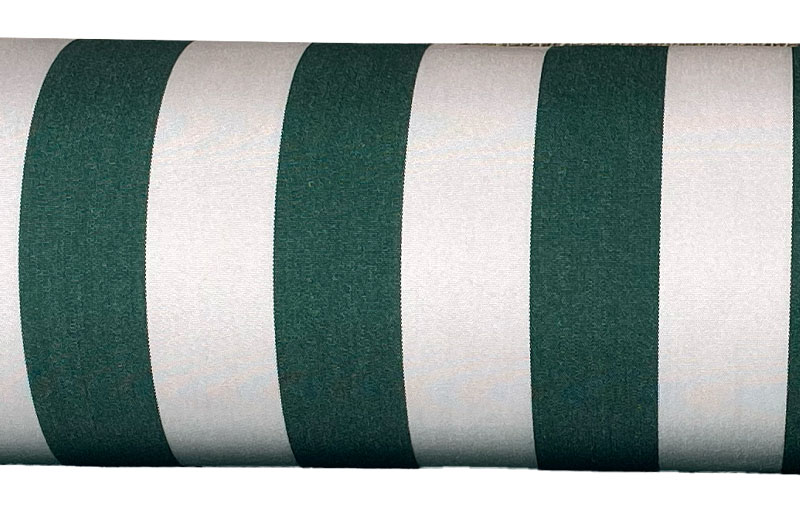 Dark Green and White Stripe Outdoor Fabric
Agora Lines Botella 100% Solution Dyed Acrylic Fabric
Dark Green and White Stripe - a gorgeous deep racing green / bottle green and white.
We have received many requests for outdoor fabrics and have now chosen to work with Agora Fabrics whose range of cool, stylish, superior quality fabrics have been designed for many outdoor purposes and are made from Solution Dyed Acrylics.
This dark green and white striped fabric is 160cm wide, water resistant, stain resistant, mould resistant, uv protect, uv resistant, easy to clean, disinfectable, soft, with excellent colour fastness and exceptional behaviour in outdoor conditions and in the presence of micro organisms.
This is an alternative to our woven cotton deckchair ranges which are sometimes not suitable for prolonged outdoor use, although cotton is comfortable and environmentally friendly.
This range of beautiful designs and textures, plain and striped, deliver versatility and style for a variety of exterior solutions, combined with a Teflon® finish for improved stain and water resistance.
Agora fabrics may be used for blinds and awnings, matched with outdoor seating and cushions and we are now selling this by the metre.
Although we stock some alternatives for immediate postage, there is a lead time of 2-3 weeks for this fabric, to receive from time of ordering.
PLEASE NOTE WATER RESISTANT DOES NOT MEAN WATERPROOF
---
dark green, white stripes
Dark Green, White Stripe Outdoor Fabric - Agora Fabrics at The Stripes Company
100% Solution Dyed Acrylic
160cm wide
260g/m2
Water Repellent
Stain Resistant
Mould resistant
UV protect
UV resistant
Easy to clean
Disinfectable
Soft
Excellent colour fastness and exceptional behaviour in outdoor conditions and in the prescence of micro organisms
Care: wash at 30C, cool
Pattern repeats: Lines range=10cm, Abaco range=15cm
Suitable for:

PLEASE NOTE WATER RESISTANT DOES NOT MEAN WATERPROOF
Water resistant fabrics shed off water, however should your covers be exposed to excessive rain, the water can penetrate through the fabric and the seams. Cushions upholstered in Agora Water Resistant Fabric should not be left outside 24/7 for 365 days of the year, especially in the damp UK conditions.
We advise drying quickly if left outside in a heavy shower, shake vigorously or lean straight to allow beaded water to shed off the fabric, unzip and remove covers where appropriate.
If fabric or cushions remain damp, mould growth may occur so it is imperative that fabrics and cushions should be dried speedily if ingress occurs and should be stored indoors during the winter months and when not in use.
Agora fabric may be washed at 40 degrees and line or air dried - do not tumble dry
---
Request a Sample Swatch
Swatch Outdoor Striped Fabrics-Agora Lines Botella
---
For how to order and orders outside UK see Ordering