Event Stool Cushions-Squash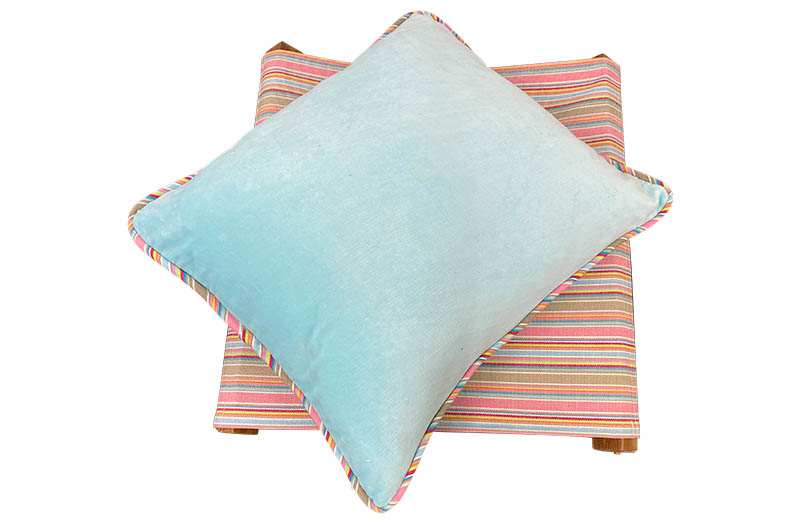 Light Aqua Blue Cushions piped in Pink, Taupe, Blue Stripes
for our Folding Stools
Aqua velvet cushions piped in baby pink, taupe and light blue stripes to match our Squash event stools - portable folding teak stools covered in our pretty baby pink, taupe and light blue with thinner mushroom, white, lime green, magenta stripe deckchair canvas fabric.
These made to order cushions measure 43cm x 38cm to sit perfectly on top of the stool.
They would also fit and look wonderful on a Deckchair or Edwardian Deckchair Footstool
If you would like a different colour velvet please select from the CHOOSE VELVET FABRIC Box
---
Pink, taupe, blue - mushroom, baby pink, soft pink, light blue, lime green, magenta stripes
Light Aqua Blue Cushions piped in Pink, Taupe, Blue Stripes for stools, footstools and deckchairs
Select Quantity
Velvet Fabric Choice
Cushion ONLY (stool purchase separately)
Measure 43cm x 38cm
100% cotton velvet
100% cotton fabric
100% Polyester inner (UK Only)
Non UK - Cushion will be cover only NO inner
Cover has zip for easy removal
See our full range of Folding Wooden Stools available separately
---
---
For how to order and orders outside UK see Ordering
Customers also bought these items in Squash...