Directors Chairs Hardwood-Ping Pong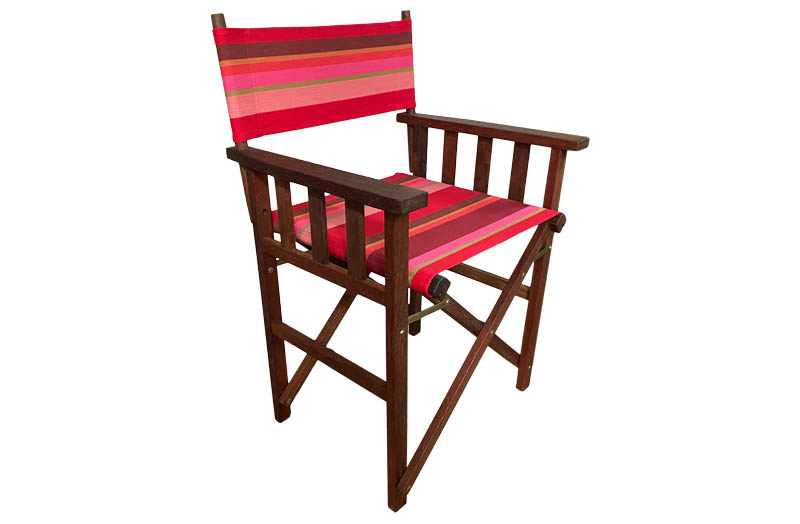 Reds, Pinks, Green Stripe Directors Chairs
We are now offering Directors Chairs, made from this beautiful dense and durable hardwood, know as Kwila, native to the Indo-Pacific region and perfect for furniture and many other uses. It is also known as Merbau and is FSC certified.
Reddish brown in colour, it is completely different to our normal Teak furniture, but looks extremely rich against our pingpong stripe which has different shades of red and pink, burgundy, coral, caramel, brown, salmon pink and lime green.
Designed for indoor/outdoor use, easily folded and stored, these director chairs are strong, and extremely comfortable to sit on in your garden in lovely weather, or to enjoy the view from your summerhouse when it is raining. An excellent option for foldable spare seating to be brought out at a moments notice.
We do not recommend leaving these directors chairs outside in inclement weather - our red and pink cotton covers are not as robust as synthetic fabric, but are much more comfortable and ecologically friendly.
These are suitable for domestic or commercial use, require very little maintenance other than refreshing the covers every 1- 2 years.
Each folding directors chair comes individually boxed and ready covered with no assembly required!
---
reds, pinks, green - red undertones stripes
Reds, Pinks, Green Directors Chairs - Kwila Hardwood
Buy any 2 or more Kwila Directors Chairs and get 10% Off with code TSCKWDC10
Select Quantity
Folding Directors Chairs
Made from Pacific Kwila Hardwood (Merbau) FSC certified wood
Please note - These are specially made up for you upon ordering
We make up the covers of your choice to order so delivery may take 7 -10 working days at this busy time.
We can also make new covers for your Directors Chairs - Replacement Directors Chair Covers
or try our Loose Covers for Directors Chairs
Approximate Measurements:
Height from floor to top of chair 90cm
Height from floor to seat seat 52cm
Height from floor to top of arm 65cm
Width across from arm to arm 59cm
Width between arms 47cm
Depth of arm front to back 49cm
Seat depth front to back 47cm
Seat width across 48cm exc turnings
Width across back 54cm
Folded 90cm x 18cm
NEW - Personalise Directors Chairs
Add your chosen Hardwood Directors Chair (s) to the basket
Then see instructions on how to
Personalise Hardwood Directors Chairs
---
Request a Sample Swatch
Swatch Deckchair Canvas 45cm-Ping Pong
---
For how to order and orders outside UK see Ordering
Customers also bought these items in Ping Pong...